---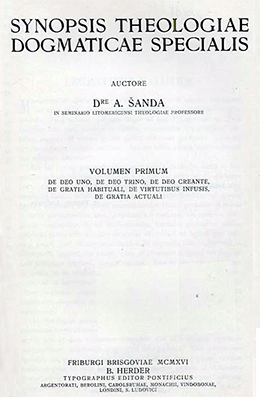 Vojtěch Šanda
Synopsis
of the Special
Dogmatic Theology
Second treatise
On God the Triune
(English translation by Lukáš Novák)
Prof. ThDr. Vojtěch Šanda (1873–1953) was a professor of theology in Prague. He was an expert on the Old Testament and one of the foremost orientalists of his time, possessing extensive knowledge of the history, languages, written sources etc. of the Ancient Near East. As a kind of side project, prompted by the needs of his students, he wrote his Latin Synopsis theologiae dogmaticae specialis (2 vols, Freiburg 1916 and 1922), a more that 800-pages synthetical work in dogmatic theology of excellent quality, which situates him also among the best dogmatic theologians of his time. The work is unique in that it combines deep systematic speculative thought rooted in the mastered suarezian philosophico-theological tradition on the one hand with Šanda's historico-critical biblical expertise on the other hand. Doctrinal reliability is a matter of course.
---
The purpose of this translation is to make generally available a solid and detailed explanation of the Catholic teaching on th Holy Trinity, hoping that it may help to remove the obstacles that inadequate or insufficient understanding of the trinitary dogma can pose to the faith.
The translation process is in progress, limited by my time constraints.
Any help offered will be much appreciated.
Please be warned that English is not my native tongue.
When in doubt, always consult the Latin!
I do my best, but I welcome any comments or corrections at
lukas.novak[you-know-what]skaut.org
---
Notes on the translation
The de fide propositions or dogmas in the strict sense are marked by a gothic (D) in the original. I the translation I have adopted the convention to mark them by reddish colour and bold face

like this

. For a complete list of Catholic dogmas see here; for Denzinger's Enchiridion see here; for an explanation of the degrees of
Biblical passages are marked in bluish color

like this

. Quotation marks are not used in that case.
All biblical texts are taken from the New International Translation at the Bible Gateway
In capitalization, I observe the parsimonious approach of Šanda and so refrain from capitalizing words like "person" or personal pronouns even when they refer to God.
---
A.M.D.G.
Adalbertus Šanda
Synopsis
theologiae dogmaticae
specialis
Tractatus secundus
De Deo Trino
(Textus latinus)