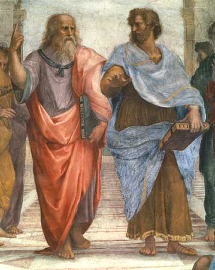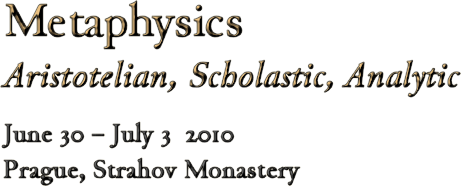 DETAILED INFORMATION
OPENING TIME
The conference will open on Wednesday, July 30, at 2:45 PM. Registration desk will open in advance at 1:30 PM. We would like to ask the participants to make use of this time to register, so that we avoid unnecessary crowding minutes before the conference opening and possible resulting delays.
LOCATION
The Conference will be held in the Strahov Monastery, Prague, Czech Republic.
The address is:
Strahovské nádvoří 1/132,
118 00 Praha 1
Czech Republic
The exact location is: 50°5'9.995" N, 14°23'21.063"E
You may contact the Organizing Committee at the following adresses:
By e-mail:

metaphysics(at)skaut.org

By snail-mail:

Prokop Sousedik, Ph.D.
Univerzita Karlova v Praze
Katolická teologická fakulta
Thákurova 3
160 00 Praha 6
CZECH REPUBLIC
ATTENDANCE, REGISTRATION AND FEES
The attendance for unregistered participants is free. Registration is not obligatory in order to be able to attend the lectures, but no service is provided to the unregistered participants.
The registered participants' conference fee is CZK 250,– (or the equivalent in Euro to be specified according to the current exchange rates). It includes refreshments during the conference sessions, a reception, an excursion into the Strahov Monastery and a guided sightseeing walk around the city centre. The payment is due in cash at the Reception Desk at arrival.
ACCOMODATION ALTERNATIVES
The following are the four suggested alternatives of lodging during the conference. In case you choose one of the first one, please contact the organizers in order to book a room. Regarding the latter two, please book your rooms individually. (The exchange rate is cca. CZK 100 = EUR 4)
The Seminary of the Catholic Theological Faculty
The cheapest and most simple alternative
Within walking distance from the Strahov Monastery (20–30 minutes, pleasant route)
2-bed rooms (single use possible) + breakfast: CZK 300 / night
Common bathroom
Cold supper: + CZK 80 / day
Note: accomodation here cannot be prolonged beyond July 3rd!
Ask the Organizing Comittee to book a room for you
Hotel "Monastery Residence"
Hotel "Masarykova kolej"
Double or triple rooms:

double room: for one person CZK 1220 / night, breakfast included; for two persons total price CZK 1440 / night, breakfast included;
3-beds room: for three persons CZK 2130 / night, breakfast included;

Within walking distance from the Strahov Monastery (20–30 minutes, pleasant route), just next to the Seminary
More details and booking (please book your room individually): http://www.studenthostel.cz/home.php
(click the appropriate flag for language, then click "Masarykova kolej").
LOCATIONS ON THE MAP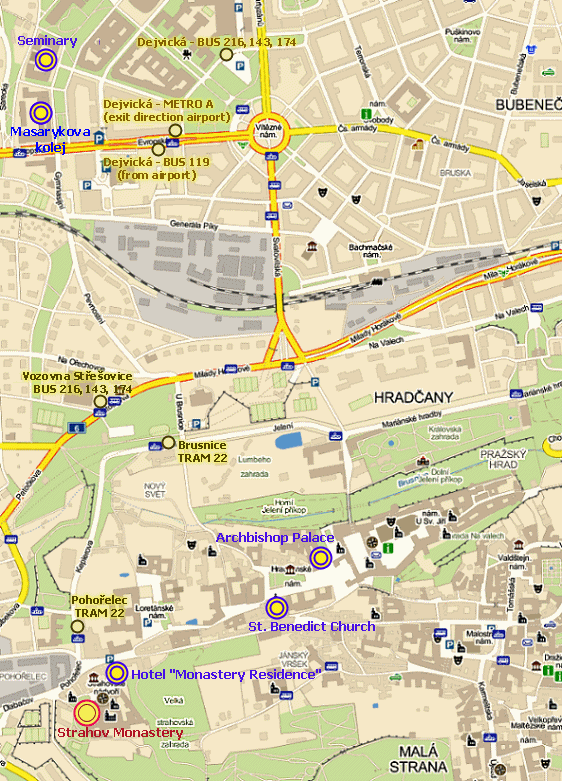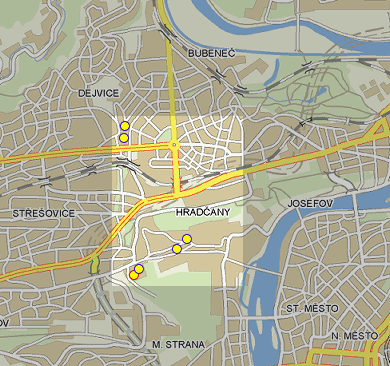 TRANSPORT -- IMPORTANT ROUTES
ROUTE (A) – Prague Airport —> Seminary / Masarykova kolej
Bus 119: Airport —> Dejvická [23 min, getting of at the final stop]
walk (yellow track, see map below) [5 min]
ROUTE (B) – Train station Praha Hlavní nádraží —> Seminary / Masarykova kolej
Metro C: Hlavní nádraží —> Muzeum (direction Háje) [1 min / 1 station]
(change from line C to line A [2 min])
Metro A: Muzeum —> Dejvická [7 min / 5 stations]
(exit direction airport, i.e. stairs up the same direction the train has arrived, then turn right, another flight of stairs up)
walk (green track, see map below) [5 min]

ROUTE (C) – Seminary / Masarykova kolej / Dejvická —> Strahov Monastery / Monastery Residence
In case you do not have a lot of luggage, it is best to walk from the Seminary / Masarykova kolej to the Strahov monastery.
The best route can be seen on the map here (the map can be scrolled, zoomed in/out etc.).
If you do not wish to walk, take this route:
Bus 216, 217, 143, 174: Dejvická —> Vozovna Střešovice [5 min / 2 stops]
walk (see map below): Vozovna Střešovice —> Brusnice [1 min]

Tram 22: Brusnice —> Pohořelec [1 min / 1 stop]
walk (see map below): Pohořelec —> Strahov Monastery [2 min]

In case you wish to get from the airport or train station directly to the Strahov Monastery (including the Monastery Residence hotel), just append Route (C) to the Route (A) or (B) respectively.
In case everything fails, you get lost etc., call +420 776 059 423 and I will save you! :-)
COMPLEMENTARY ACTIVITIES FOR SPEAKERS AND REGISTERED PARTICIPANTS
Excursion into the Strahov Monastery
– Wednesday evening (cca. 7:00 PM)

Guided sightseeing walk around the historic centre of Prague
– Saturday afternoon after the closure of the conference (starting at cca. 5:30 PM)

Reception in the Archbishop Palace, Cardinal Beran Hall
– Thursday night, 7:30 PM

Everyone is welcome to join us at a special Catholic Holy Mass (Latin, gregorian chant) that will be celebrated at St. Benedict Church, Thursday, July 1st, 6:00 PM.
OFFICIAL LANGUAGES
Presentation of papers during the symposium should be delivered in English (preferred) or German.
CALL FOR PAPERS – PAPER REQUIREMENTS
(DEADLINE EXPIRED)
Papers are welcome on any of the topics indicated in the General Information section.
A short abstract of cca. 2500-3500 characters should be submitted to the Organizing Committee by April 15, 2010,
by e-mail (if possible – see contacts above).
The Peer-Review Board will select the papers to be presented at the Conference.
Papers should be written in the English (preferred) or German language.
The length of a paper should not exceed 25 minutes of reading time.
Papers selected by the Peer-Review Board will be edited and published as a supplement volume of the journal Studia Neoaristotelica.