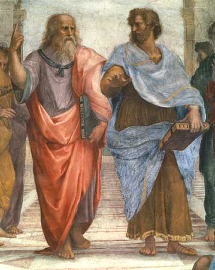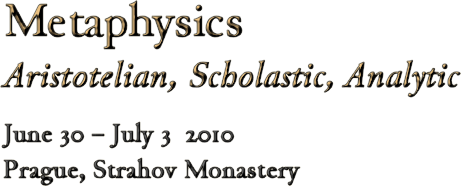 KEYNOTE LECTURES
Edmund Runggaldier

"Potentia subjectiva" in scholasticism and the contemporary debate on "powers". Scholastic philosophers distinguished between potentiae in a logical sense (potentiae objectivae), on the one hand, and potentiae in the sense of capacities or active dispositions of living beings or real things (potentiae subjectivae), on the other. They were familiar with two different accounts of modalities, one corresponding in a certain sense to the modern possible-worlds-approach and the other having its basis in everyday life, i.e. in our experience of having certain capacities and acting accordingly. Nowadays we have a similar duality of approaches to the problem of powers and active dispositions.

Peter van Inwagen

What is an Ontological Category? I examine the concept of a natural class, and propose a definition of "ontological category" in terms of that concept. Say that a class is "large" if its membership comprises a significant proportion of the things that there are. Say that a class is "high" if it is a proper subclass of no natural class. Then a natural class is a primary ontological category if and only if (a) there are large natural classes, and (b) it is a high class. (Secondary, tertiary, etc., ontological categories are defined by an extension of this definition.) I defend the definition, consider various ways in which it might be modified, and apply it to the problem of constructing a taxonomy of ontologies.

Michael Loux

Aristotle and the Constituent Tradition. In this paper I focus on one style of ontological explanation---what I call the constituent strategy. Very roughly, a proponent of the constituent approach attempts to explain the character of a familiar particular by way of underived sources of character that function as something like parts, components or constituents of the particular. Then, I examine some contemporary versions of the constituent approach and I consider objections frequently raised against them. The claim is that these accounts are unable to accomodate certain facts: (1) that familiar particulars persist through change; (2) that familiar particulars have some of their properties
essentially and others merely contingently; (3) that familiar particulars are concrete individuals; and (4) that numerically diverse partriculars can have all and only the same properties. Finally, I discuss Aristotle's version of constituent ontology and argue that it has satisfactory responses to all four objections.

Gyula Klima

[updated]

Aquinas, Kenny and Buridan on Essence and Existence, and the Commensuaribility of Paradigms. The paper will analyze the ways in which the three authors mentioned in the title talk past each other concerning Aquinas' thesis of the real distinction between essence and existence in creatures and the identity thereof in God by reflecting on the paradigmatically different conceptual frameworks in which they frame the issue. In particular, the analysis will focus on Kenny's and Buridan's objections to Aquinas' so-called "intellectus essentiae" argument. The conclusion of the paper will suggest that despite their "paradigmatic" differences, the three authors' claims and arguments are not "incommensurable" in any radical sense, given the possibility of judging them in a conceptual framework that accommodates them all.

Uwe Meixner

From Plato to Frege: Paradigms of Predication in the History of Ideas. One of the perennial questions of philosophy concerns the simple statements which say that an object is so and so, or that such and such objects are so and so related: simple predicative statements. Do such statements have an ontological basis, and if so, what is that basis? The answer to this question determines - or in any case: is expressive of - a specific fundamental outlook on the world. In the course of the history of Western philosophy, various philosophers have given various answers to the question of predication. The paper presents the main, the influential answers: the paradigms and theories of predication of the Sophists (and of all later radical relativists), of Plato, of Aristotle, of the Aristotelian-minded non-Nominalists, of Leibniz, and of Frege. In addition, the paper follows (to some extent) the most influential - the Aristotelian (or mereological) - paradigm of predication in its continuity and modification through the many centuries of its reign. The result, which I believe to be novel, is a motivationally connected, panoramic, and yet analytically clear, very brief history of the absolute highlights of an inconspicuous but crucial part of philosophy. But the paper is not content to adopt the merely historical point of view; it also poses the question of adequacy. Prior to Frege, there was no philosophically adequate theory of predication, and the paper points out the shortcomings (besides aspects that can be viewed as advantages) of each pre-Fregean predication-theory considered in it. Frege, in the 19th century, brought the philosophy of predication on the right track, but his own theory of predication has its own deficits. The paper ends with the presentation of a theory of predication that I myself consider adequate.

Robert Pasnau

Parts and Wholes. Scholastic philosophers have a great many interesting things to say about parts and wholes, much of which has not received the attention it deserves. In this paper I concentrate on two issues that have particular salience to philosophy today. The first issue is whether all the parts of a thing are actual, or whether we might instead speak of some parts as merely potential. The second issue is whether the whole is simply identical to the sum of its parts, or whether it is something further beyond those parts.

E. J. Lowe

Essence and ontology. The aim of this paper is to show how, by combining a neo-Aristotelian account of essence with a neo-Aristotelian four-category ontology (of individual substances, modes, substantial universals, and property universals), a thoroughgoing metaphysical foundation for modal truth can be provided -- one which avoids any appeal to 'possible worlds' and which renders modal truths objective mind-independent. The paper will include an account of how knowledge of modal truth is possible.

Edward Feser

Existential inertia. The "existential inertia" thesis holds that, once in existence, the natural world tends to remain in existence without need of a divine conserving cause. The paper argues against this thesis and reaffirms the traditional Thomistic doctrine of divine conservation.

David Oderberg

Essence and properties. The distinction between the essence of an object and its properties has been obscured in contemporary discussion of essentialism. Locke held that the properties of an object are exclusively those features that 'flow' from its essence. Here he follows the Aristotelian theory, leaving aside Locke's own scepticism about the knowability of essence. I defend the need to distinguish sharply between essence and properties, arguing that essence must be given by form and that properties flow from form. I give a precise definition of what the term of art 'flow' amounts to, and apply the distinction to various kinds of taxonomic issues.